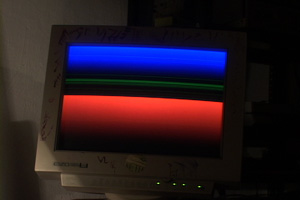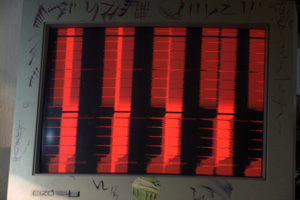 so here's some long and boring video documentation for the sake of creative process…
not particularly spectacular images as the focus is on generating movement from a variety of percussive audio at the moment.
experiment "2″ is a different concept than experiment 1
just trying to move a horizontal line up and down.
this is one line going to the red component of the monitor, inverted signal of the same line going to blue. simple form, but i kind of thought it looked like a mouth singing on the screen. (music: blonde redhead)
same as above basically but added direct audio line into green component via a 4066 switch, controlled by the top line. (music: 1. ? and 2. rammellzee)
a rebuild of experiment 1 but with some changes (trying to get vertical lines only)
(music: Los Samplers)
same as above but trying to use the first circuit with the second circuit together. not a total failure but couldn't really get them to totally synch with each other… think i figured out why this is but have yet to figure out what to do about it.
(music: ky lomerto)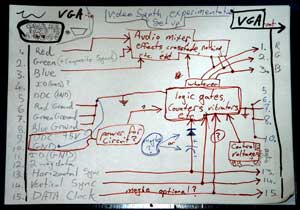 here is a drawing which vaguely shows to sort of thing i have set up for experimenting. in theory, this should be able to drive a video projector without confusing it. i've been just using 640×480 60Hz coming from an old computer's VGA out… higher resolutions should be no problem i suppose. LM1881 or 1883 chip could probably be used instead of a computer, though not sure if it needs a video input in order to generate the synch.
…update… optional diodes on the synch-lines would need to go between the inputs and outputs to monitor (or projector)
so NOT as shown in this diagram..
synch inputs would need to go directly to the logic without any diodes..
but maybe no diodes is better… schmitt-triggers on the other hand might be just the ticket