MS-Stereo recording is a way of getting a stereo sound image with a shotgun-mic and a figure-8 (bidirectional) mic. Each mic gets recorded onto one channel and then the signals are later matrixed by leaving the shotgun's signal in the middle, panning the figure-8 channel to the left but also panning a copy of that channel to the right with the phase inverted. It's a nice way to go for a number of reason including the fact that you can adjust the balance between the centre sound and side sounds in post-production.
I've had a Sennheizer shotgun and an AKG figure-8 mic for a while, the bounty of a video production I did. Since then I've wanted to make field recordings but it was always a real hassle because of wind noise. "Air-blast" can make an otherwise fine recording sound really crappy, even on calm days. Having the right gear is a solution but professional shock-mount / wind-breakers tend to be really really really expensive and not generally tailored for my specific mics. On top of that, I don't have a DAT machine or other professional type field recorder. So I set about hacking together whatever materials I could find on the cheap.
result: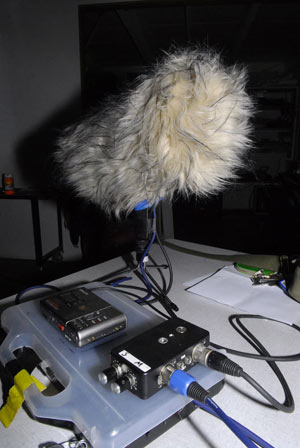 process:
The first thing was to get a second hand mini-disk recorder. I found a nice old Sony number which carries a big lithium-ion battery inside. That's a great thing because its battery far outlives anything found in newer machines. It can also carry 2 extra AA batteries in a detachable case. Plus it's made of metal and has a handy threaded hole on the back meant for attaching to a car-adaptor. I used the threads to mount it on a plastic case I had on hand since I wanted to wear the thing with a shoulder strap.
Mini-disc data compression isn't the greatest but the MD format has a lot of good things going for it. Recordings with this set up sound way way better than any DV camera i've used with the same mics attached in the same way. This even though DV's PCM sound is uncompressed and has a higher sampling rate than MD. For video work I've used an MD along side a video camera many times and even after an hour they stay very well in synch with one another.
To patch the mics into the MD recorder I used a Beachtek audio adaptor device, also mounted to the case via its tripod bolt. It's meant for attaching professional microphones to not so professional video cameras but works rather well with MD recorders too. These things are not particularly cheap when new, but I had one for video work. The electronics inside are probably quite simple and not so expensive so making one would be simple I think; there's no pre-amp, it just gets your balanced line into an unbalanced input with a nice short wire.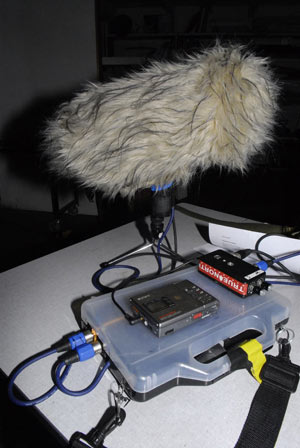 Inside the case I tie-wrap mounted an old portable phantom-power box, necessary because the AKG doesn't hold a battery. So yeah, a portable recorder with shoulder-strap and easy access to all the controls and display. But that was the easy part.
For the wind-sock I went to the hardware store (or stores as it were). There I got a couple of steel plates which are meant for screwing wood together. It took a bit of digging to find 2 of the same kind whose holes actually lined up.
To one plate I bolted on some plasticy circle things which are normally used for holding big PVC pipes onto walls.
It was a pretty simple procedure to hack off the excess material and add holes for the bolts using an old cheap-o soldering-iron.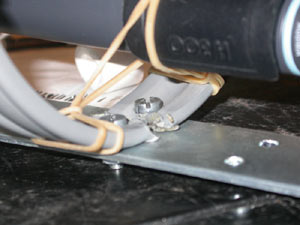 To hold the shotgun mic I found some little plastic clips whose regular purpose is also for holding plastic tubing onto walls. These ones come in a variety of sizes and are meant to hold the tubes where household wiring is often concealed. They have little ridges on the sides, so you can clip a number of them next to each other. There I fit in some bolts so as to allow the mic to be suspended inside the PVC rings with rubber bands.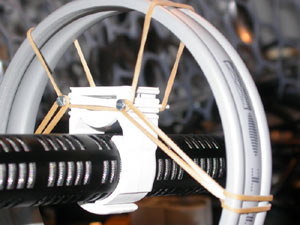 It took quite a while to figure out a system with the box of rubber bands I had, eventually deciding to use some rubber o-rings from the plumbing section. To hold the figure-8 mic I used a special clip made by AKG. Absolutely not cheap for what it is but I got it at the same time as the mics.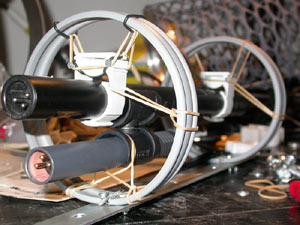 A big problem with the rubber bands is the fact that they are square rather than round. When they move around, they sort of flip-over sometimes causing unwanted sounds to be registered by the mics. The way around this was to use round belts like those found in various kinds of mechanical gadgets (sewing-machines, VCRs, that sort of thing). They are much quieter over-all, not only because they are round but also because they are made of better rubber I think. I still haven't found my dream surplus bin full of round belts but I did recently find a few decently priced miscellaneous belts at an electronics shops in the neighbourhood.
The conventional wisdom on dampening wind-noise is to use cheesecloth which can be found very cheap in a variety of different weaves. The trick was to get it around the shock-mount. For this purpose I found some plastic netting at a home-reno shop. I think it's for keeping birds out of your rain-gutters but I'm not sure. It came in a roll and it holds its cylindrical shape very well.
To the second steel plate I bolted some metal loops which, once again, are normally meant for attaching pipes to walls; these ones for those tin chimney pipes which come out of natural-gas heaters. They already had threads at the base and I added some rubber grommets (bushings?) to get it just the right height and add a bit of vibration dampening.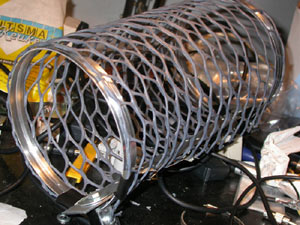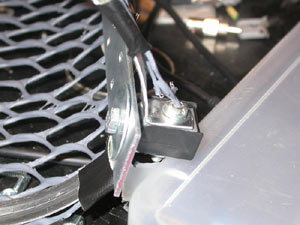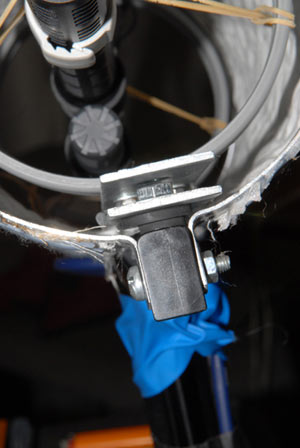 The netting happened to be exactly the right width so that was a bonus I guess. The cheesecloth which some friends donated was of 2 different weaves, one with quite small pours and the other with quite a bit bigger pours. I elected to use both after some tests to feel how much air disturbance would make it through the material from mouth to hand.
Grafting the cheesecloth onto the netting would require some kind of special process and that special process turned out to be ironing. An ordinary clothes iron was able to melt the netting into the 2 layers of fabric as to create a very solid bond (and rather quickly). The netting isn't altogether very flat so only the highest points would contact the iron and melt through. I used the old soldering iron to finish the job which took quite a long time relatively. Once that was done, the netting was glued onto the metal rings with some kind of goopy clear adhesive substance.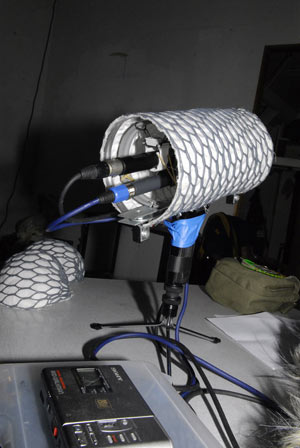 The soldering iron was also used to fashion the bra-shaped domes which go on either side of the blimp. I just taped some netting around one of the frame rings, cut out the excess and melted bits of the netting together to get the right shape. Then the soldering iron was used to attach the 2 layers of cheesecloth to the inside of the dome. It worked out pretty well, the domes just fit snugly onto the rest of the contraption without the need for velcro or anything like that. This is good because they have to fit on and off easily to allow for access to the mics.
The shock-mount fit nicely inside the airframe(?) and the two steel plates were bolted together with rubber bushings in between to get the right spacing and dampen handling noise. I toyed with the idea of attaching the plates together in a way which would leave them floating with no actual metal touching metal between them. I didn't opt for this extra isolation as it would have involved drilling the holes bigger.
The pistol-grip was a nice score which came from an old, broken super-8 film camera. I think it's made of bacolite. It's got a standard small tripod mounting bolt at the top with a finger twisty thing and some flat rubber for a nice fit. I usually tape the mic cables around the handle so that they don't get in the way when recording.
Attaching the handle did require the drilling and tapping of a hole in one of the steel plates. Thankfully friend, Peter Flemming let me use his machining tools and thankfully he was able to advise me on finer points of getting a level of precision. He has a big industrial drill-press (which is just the coolest thing ever) and all kinds of charts to help with using the right drill bit for whatever threads you need to make. It worked just fine. I also drilled a slightly bigger hole through the inside plate just incase of needing some clearance.
The final stage was the fuzzy thing which goes on the outside. I found some nice long-haired faux-fur at the market. Choosing the right pattern and colour wasn't really important so much as finding something which I thought had the right kind of backing. Something with big enough holes for the sound to come through I assumed. It was sewn into the right shape by some pals who are quite good at that sort of thing. Velco was sewn along parts of the open seam for easy open and close.
so. done: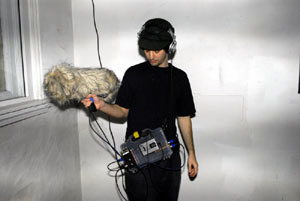 My first field-test was an evening bike-ride around the city on one windy windy day. It was really darn windy I can tell you. The zeppelin did a great job of stopping any wind-blast from messing with the sound. Bumps, jostles, handling noise, etc. were absorbed by the shock-mount rather well actually.
here's an excerpt from the hour long recording I made:
You can kind of hear the bike but it's pretty quite compared to everything else.
The built-in low-cut switches on the mics (designed for reducing wind in outdoor use) were off but that didn't seem to matter. One silly problem with the recording came from the use of those square rubber-bands: when shaking the mic around they flip over and cause a sound not unlike someone tapping on the mic with a fingernail. Use of round rubber belts throughout the shock-mount should deal with that issue in the future.
Over all I'm quite happy with the results but I'm not sure how much better a new professional shock-mount and windscreen would perform. The pro gear tends to be extremely light for use on film shoots and things like that. What I made works just fine for my uses but you'll never find something like that on the end of a handheld boom-pole, it's way too heavy for that. I actually like the weight (about the same as a medium sized video camera) and the balance is good. Thanks to the super-8 pistol grip, the whole thing mounts nicely on an ordinary photo tripod and with an adaptor (which also came with the super-8 camera) it fits on a standard microphone stand. I use it without the fuzzy thing for voice recording in the studio since the cheesecloth makes for a good 'pop-screen' at close range.
I'm planning to make many more field recordings with this device. Obviously it's not something for stealth recording as it tends to look a bit conspicuous, but maybe that's a good thing.