CONTENTS -- PAGE 1 -- -- PAGE 2 -- FEEDBACK


Explosion Sounds and the World Trade Center - Twin Tower Collapses


version 1.46



Introduction

Many witnesses to the collapse of the Twin Towers of the World Trade Center in New York City describe at least one "explosion" at the time of the collapses. A few eye-witness accounts specifically describe 3 explosions at the initiation of the collapse, whilst others some describe a "crackling" sound. Many people describe hearing a "pop-pop-pop-pop..." or "bang-bang-bang..." as the towers came down1.

The reality of there being some kind of explosive events coinciding with the demise of each building, as reported by eye witnesses is well documented. However, any word of explosions essentially disappeared from mass-media reports of the the attacks very quickly and to this day are not part of the official narrative. Mainstream scientific attempts to describe the collapses as unforeseen catastrophic engineering failures do not bother to take into account the widespread reports of explosions.

Though video clips of the collapses can be found all over the internet and on video releases, most people will not really hear evidence of explosions on the available footage. What most people would describe hearing from the available media is the "roar" of the buildings coming down. The main reason for this is probably because there is not much actual audio content available of the events. Most angles of the collapse are presented without any sound other than that of news anchors, reporters, interviewees, narrators, etc. speaking over-top. It is the preferred style of news-media to constantly have human voices "giving shape" to history as it unfolds. Creating meaning rather than reporting facts.

Some examples of video footage which includes audio can be found and this audio does include evidence of explosions, though it is not generally obvious for a number of reasons. Sounds of intense volume recorded at close distances will tend to overload and be distorted by the time they make it onto tape. If a very loud sound such as an explosion overloads the camera's sound circuitry and is followed very quickly by subsequent loud sounds, the individual sounds will be more difficult to identify because the shape of each sound, the attack and decay, will be masked as the audio circuits are completely saturated with signal. Results will vary depending on camera type, microphone type, specific settings, and proximity to the event. Some angles of the collapses are cut very short so they start playing only after the initiation of collapse sounds, perhaps because some videographers did not capture the first moments on tape or as a result of the news tending to only focus on the "juicy" bits in their presentations. Another problem with internet videos is that when there is sound, it is usually missing a lot of information and/or is distorted from various forms of data compression and/or sloppy transfers. Another problem with internet video in terms of close scrutiny can be audio which is encoded or played back slightly out of synch with the picture.

From listening to audio with evidence of explosions, it seem that the intense "roar" associated with the towers coming down actually begins before any signs of typical explosions occur. This would raise many more questions about the nature of the building collapses and what actually caused them to come down. The initial "roar"/"rumble" might have masked the initial sounds of explosions in audio recordings and even to the ears of witnesses to varying degrees.

The power of suggestion can have a very strong influence on what we think we are hearing and on what we remember hearing. Interpreting what we hear through audio playback equipment (and even in reality) will rely heavily on what our eyes see at the time and how the audio has been contextualized, pre-interpreted, and packaged for us. A dramatic example of this is how we can be made to hear hidden messages in songs which are played backwards; we will generally just hear nonsense in a backwards passage until someone points out to us what they want us to listen for, at which point we will hear what we are supposed to, clear as day, even though it may a vague, chance similarity. With this in mind, it is important to approach the evidence of audio recordings with very careful listening and analysis to try and be clear about what is actually there.

With all the available eyewitness testimonies and the fact that clear signs of explosions can be observed on the limited amount of available material, it should be apparent that some type of explosions did occur. Whether caused by bombs or not, these explosions would certainly seem to have something to do with the collapses of the towers.

What follows is a basic analysis of some audio clips of the collapses, taken from video clips which are available on the internet and video release. Reasonable full-range speakers or full-range headphones should be preferred for listening as computer speakers tend to have quite a limited frequency range.




Note: click images for larger file. embedded audio is mp4 format, click link for uncompressed.



Part I: The South Tower Collapse -- Audio Recordings
Trinity Church
**update** discussion of the authenticity of this clip's audio can be found on "this page" since the audio portion has most certainly be "dramatized" for the Dolby 5.1 format from whence it came.
***updated update*** the comments section, lost in the archive, has been offline for quite sometime. To summarize, the source of "southtower.trinity.avi - 640x384" was identified as the television drama known as "Rudy: The Rudy Giuliani Story", from 2003.
The visual material of the clip is legitimate, as would seem to be much of the audio, however, one reader who works as a sound engineer analysed the phase-continuity of the clip and concluded that explosion sounds had been added to the original footage; presumably from a sound FX library.
So any explosion sounds on the original clip (if any even exist) have been embellished and/or masked during the show's production. The results would equal more drama for television viewers and a useless 'tainted sample' for the purposes of this paper.
Questions of the timing of 'blasts' may still be somewhat interesting, however, if this paper is to be updated in the future, either the original, unembellished footage needs to be located, or the this clip and its analyses removed / replaced with something undoctored.
That said, the provenance of all audio-visual clips looked at here remains an important question of course.
The first video is screen-marked "10:28am" and is a very brief clip of the south tower collapse, recorded close by from the south east next to Trinity Church2. Though less than 5 seconds long, this clip offers fairly high quality audio, the most pronounced sound being that of 2 gigantic explosions. They are unmistakable and sound like 2 violent thunder claps.


video:
southtower.trinity.avi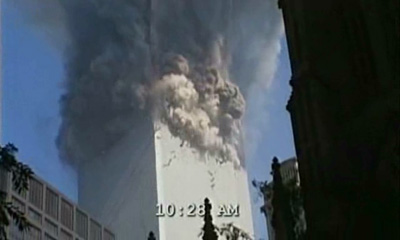 640x384 - 900KB - AVI

audio only:
converted to 44.kHz 16bit - stereo - aiff - uncompressed
southtower-tinity1.aif
4.73 seconds - 820KB
preview mp4: